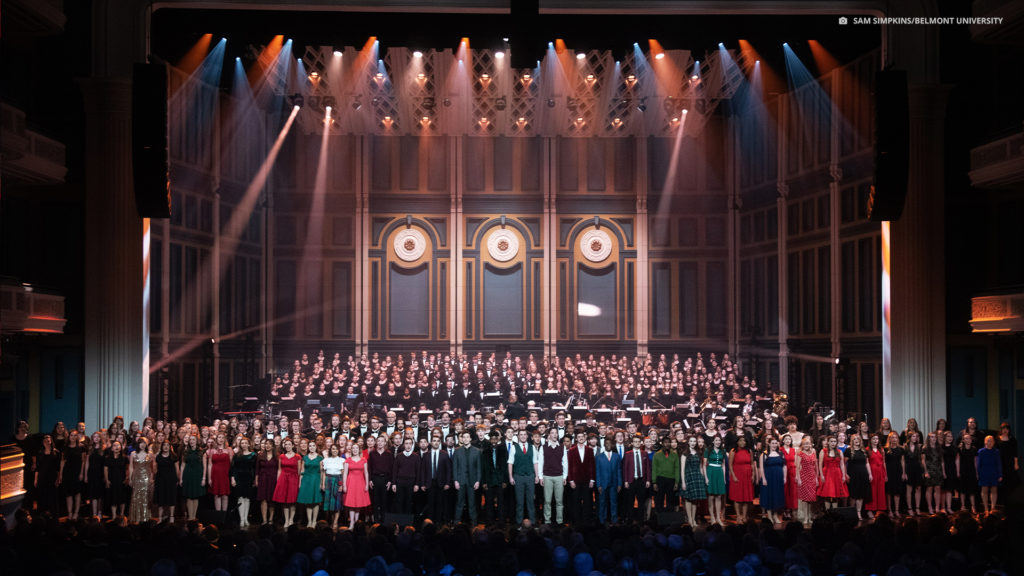 Holiday programming on NPT this year includes familiar favorites and special treats, including a new Christmas at Belmont production premiering on NPT and public television stations nationwide Monday, Dec. 20, at 8 p.m. with a 10 p.m. encore on NPT. Additional holiday weekend broadcast times for Christmas at Belmont 2021 on NPT are: Dec. 25, at 9:40 p.m.; Sunday, Dec. 26, at 5 p.m.
The 2021 and 2019 concerts will re-air several times on NPT and NPT2 over the holiday season and will also be available to watch anytime at video.wnpt.org, pbs.org or via the PBS app.
Recorded in the new 1,700-seat Fisher Center for the Performing Arts on Belmont's campus, Christmas at Belmont 2021 features nearly 650 Belmont University students performing holiday favorites, traditional carols and festive tunes. This year's show opens with nighttime aerial views of the Nashville skyline and then moves to shots of Belmont's new venue.
"NPT is thrilled to once again be collaborating with Belmont University to bring Christmas at Belmont to a national audience on PBS," said Becky Magura, NPT's president and CEO.
Christmas at Belmont includes 15 student musical groups, among them the Belmont Symphony Orchestra, Belmont Chorale (traditional choir) and Jazzmin (vocal jazz ensemble) performing a variety of genres. The students will be joined by faculty members from Belmont's School of Music.
The concert begins with a stage full of students performing an arrangement of "Carol of the Bells" that includes a bit of a medley of holiday tunes. Standout performances in a night of beautiful music include a bluegrass rendition of "It's Christmastime Again," a Gospel rendering of "Go Tell It on the Mountain/Glory to God" and a version of "¡Navidad!" by the Percussion Ensemble that's full of verve and syncopation – and a couple of musical surprises.
Choral pieces, orchestral music and show tunes round out the performance.
"The hope of Christmas is perfectly reflected in so many songs of the season, and I look forward with great anticipation to showcasing the talents of our students in front of a national television audience," said Dr. Greg Jones, Belmont University's president. "We are honored to continue our nearly two-decade partnership with Nashville Public Television to produce this timeless holiday broadcast."
Christmas at Belmont was recorded in early December with an invitation-only audience in attendance and COVID-19 protocols in place.
Other holiday specials on NPT this season include the classic Peanuts A Charlie Brown Christmas Sunday, Dec. 19, at 6:30 p.m. (also NPT3 PBS Kids and livestreaming) and on Christmas Day, Downton Abbey – The Movie airs at 6 p.m., followed by the 2021 Call the Midwife Holiday Special at 8 p.m. (encore Sunday, Dec. 26, at 6:30 p.m.).