The fantastic 2009-10 Season of ITVS Community Cinema in Nashville has officially wrapped. We were holding on just a little while longer in hopes of finally screening The Horse Boy after two postponements, first due to severe weather, and second due to the Flood. But as you read on, you'll see that all hope is not lost on our desire to screen this great documentary for the community. It will happen!
Presented by ITVS, Nashville Public Television and Nashville Public Library in partnership with Hands On Nashville and the Nashville Film Festival, we opened the season in September with Jim Granato's D Tour, followed each month by a new film, Copyright Criminals, Between the Folds, Young @ Heart, Garbage Dreams, The Eyes of Me, DIRT! The Movie, Me Facing Life: Cyntoia's Story and A Village Called Versailles. The screenings were free and open to public at the Main Branch of the Nashville Public Library.
Over a dozen community partners joined us in promoting the films and populating the panels, among them the Belmont University Copyright Club, Community Food Advocates, Consulate-General of Japan in Nashville, Earth Matters Tennessee, HealthSpring Silver Stars, Lions Clubs of District 12-L, Metro Beautification and Environment Commission, Metro Nashville Human Relations Commission, National Kidney Foundation of Middle Tennessee, Nashville Association of Musicians, Nashville Public Library Foundation, Sustain VU, Tennessee School for the Blind, Urban Organix, Whole Foods and Zeitgeist Gallery. We're extremely grateful to the organizations for joining us this year, and to the Nashville Public Library — and especially Deanna Larson — for hosting. Thanks also to the Nashville Scene for consistently making the films Critic's Picks each month and helping us reach a wider audience, and WSMV anchor Jonathan Martin for being our frequent moderator. The series wouldn't be possible without community partners and media support.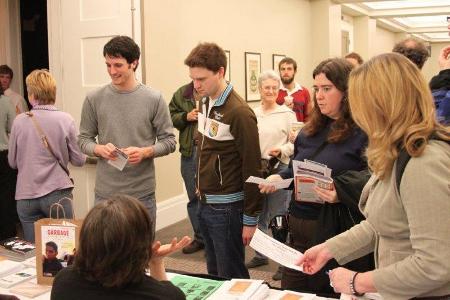 Thanks also to all of you who came out to the screenings. Whether you asked questions during the panels discussions, signed up for our mailing lists or told your friends about the series, your participation and engagement is essential to Community Cinema's success.
One person we definitely couldn't have put the series on without is ITVS Community Cinema Coordinator Allison Inman, who puts the whole show together. The series is a passion for her, and like we did when we wrapped up last year's season, we thought we check in with Allison and get some parting thoughts.
NPT Media Update: This is the second year we've done ITVS Community Cinema in Nashville. We were back at the beautiful downtown Library, this time on weekends, which worked out great. Overall, do you think interest and awareness for the series is growing in the community?
Allison Inman: Definitely. The crowds keep growing and we have many regulars now.
At this year's Nashville Film Festival, there was a screening of "Freedom Riders" attended by some original Freedom Riders. The crowd clapped for five minutes after the screening and gave the attendees a standing ovation. It was the moment for me that embodied what I love about the Festival. This year at Community Cinema, the A Village Called Versailles screening was powerful, coming just weeks after the Nashville flood. Was there a screening from this past year, including both a film and panel, that really stands out as having been more impactful than others, or best representing the spirit of Community Cinema?
It's hard to top Me Facing Life: Cyntoia's Story, our special screening at the Nashville Film Festival. We had Cyntoia's family members, former legal team and psychologists, and the filmmaker on the panel. This is a film about a young woman who, at age 16, murdered a man she says she thought was about to hurt her. She was tried as an adult and sentenced to life in prison. The film explores the social issues surrounding her life up until that moment, including a legacy of sex abuse in her family. Our event was incredibly emotional. The true spirit of Community Cinema was revealed later, when I got a call from an attorney who wanted to plan a juvenile justice symposium for the legal community — based on what he saw in that film.
Sometimes the films that draw the biggest crowds are the ones you least expect. I knew there would be interest in Between the Folds, but was pleasantly shocked at just how well it was received. Have you gauged the Nashville audience just yet?
Not exactly, although I can tell you that Nashvillians seem to like environmental films. We had fantastic, lively crowds for Garbage Dreams and Dirt! The Movie. And we like fun events before screenings, like making origami. Funny, we had two great music documentaries this year — D Tour and Young @ Heart — but those were smaller crowds.
A favorite film from the 2009-10 series?
A Village Called Versailles moves me to tears every time I see it, and it gives me hope. D Tour is also high on my list. You couldn't ask for a more engaging story than Pat Spurgeon on the road with his rock band, doing dialysis in hotel rooms, waiting for a new kidney.
Was there a moment, or a film, that impacted you personally more than others, or something where you, yourself, had your eyes opened or your opinion changed?
That would be The Eyes of Me, about teens at the Texas School for the Blind, because I learned so much from our partner (Tennessee School for the Blind) and from our audience discussion. It made me think more deeply about audience members with disabilities, and how we can make our events more accessible and desirable to them. It's a community that is often shut out of fun, free public events like ours because of accessibility issues. I want to do better to be inclusive.
What do we have to look forward to next year?
Greatness! Titles aren't confirmed yet but I'll leave you with some topics: mountaintop removal, Appalachian culture, religious callings, Native American issues, stereotypes in cinema, juvenile justice, transgender issues, refugees, genocide, forgiveness/reconciliation, women in political power, and Middle East politics. Some of those overlap.
Also, before the next season kicks off in October, we have a Women's Empowerment Film Festival at the library on August 21. It's a free daylong party where we'll screen four films about girls and women — Lakshmi and Me, Troop 1500, A Girl's Life, and Off and Running — and have free food and representation from local nonprofits working with girls and women. Then in September, we'll finally screen The Horse Boy! We had to cancel it twice this spring because of tornado warnings and flood cleanup. We're planning a fantastic screening and will probably do this one at Vanderbilt's Sarratt Cinema in partnership with their International Lens series.
To be notified of the next season of ITVS Community Cinema in Nashville, be sure to sign up for our mailing list at wnpt.org.
Thanks to Frank Keesee for the photos!