Havana Time Machine, premiering Friday, Oct. 6, at 8 p.m. on NPT, is a smooth blend of performance film and travelogue, a musical survey given a personal touch by host Raul Malo of The Mavericks. The one-hour program was filmed in April and produced by Todd Jarrell and Todd Mayo of Nashville-based Todd Squared Productions (Bluegrass Underground and Music City Roots). Co-presented by Great Performances and VOCES, Latino Public Broadcasting, and WCTE Upper Cumberland PBS, Havana Time Machine is part of NPT's Hispanic Heritage Month programming and will be followed at 9 p.m. by the Hispanic Heritage Awards.

The beautifully filmed Havana Time Machine begins with Malo standing beside a vintage blue and white convertible talking about his relationship to Cuba and how there's more to the island than baseball, rum and Ricky Ricardo. He then climbs into the car and tools around the city to meet with various musicians, passing the grand boulevard, Spanish colonial architecture and a depiction of Che Guevara along the way. He later visits Finca Vigía, the home where Ernest Hemingway wrote For Whom the Bell Tolls and The Old Man and the Sea. But mostly, Havana Time Machine is about music.
Malo's even-keeled delivery seems tailor-made for the film and he pulls it off as though he's been doing this kind of thing for years, though this was his first stab at hosting. "I guess I'm used to being a ham, there just happened to be cameras around." Malo said from Austin, Texas, during his band's current tour.
Havana Time Machine musical director/writer Larry Nager suggested that Malo would make a good host for the documentary and Jarrell concurred. "More than any other band I can think of, The Mavericks just sort of embody this blend of styles, you just can't put your finger on it," he said. "They're not a country band, but they are. They're not a Latino band, but they sort of are. And they're not a rock band, but they absolutely do," he said, laughing.
In the documentary, Malo performs Cuban classic "Siboney" with Eliades Ochoa and his band. Ochoa and the song will be familiar to fans of Ry Cooder's late 1990s-Buena Vista Social Club project. It's a lovely moment, filmed in a city square surrounded by greenery and with people looking down from balconies. When the crew first attempted to film this segment in another park, they were threatened with arrest, despite having permits. They managed to find an alternate location and capture the performance just before another encounter with police.
The production became a truly Cuban-American collaboration and mirrored how the musicians and everyone has to work as the crew scrambled to find the equipment they needed. Jarrell said instead of the usual gear list, they had a phone list of who had which piece of equipment. "It was communal, not Communist," he said.
Malo and Jarrell were both moved by the challenges faced by the Cuban people in general and musicians in particular. "They just can't just go to Guitar Center and buy guitar strings," Malo said. "They can't go get tubes for their amps, when these guys record at their house, they've got to fix it, they can't take it to a shop. It's things like that that make you wonder, how do they carry on? And there's music everywhere. And there's joy, people somehow still enjoy life."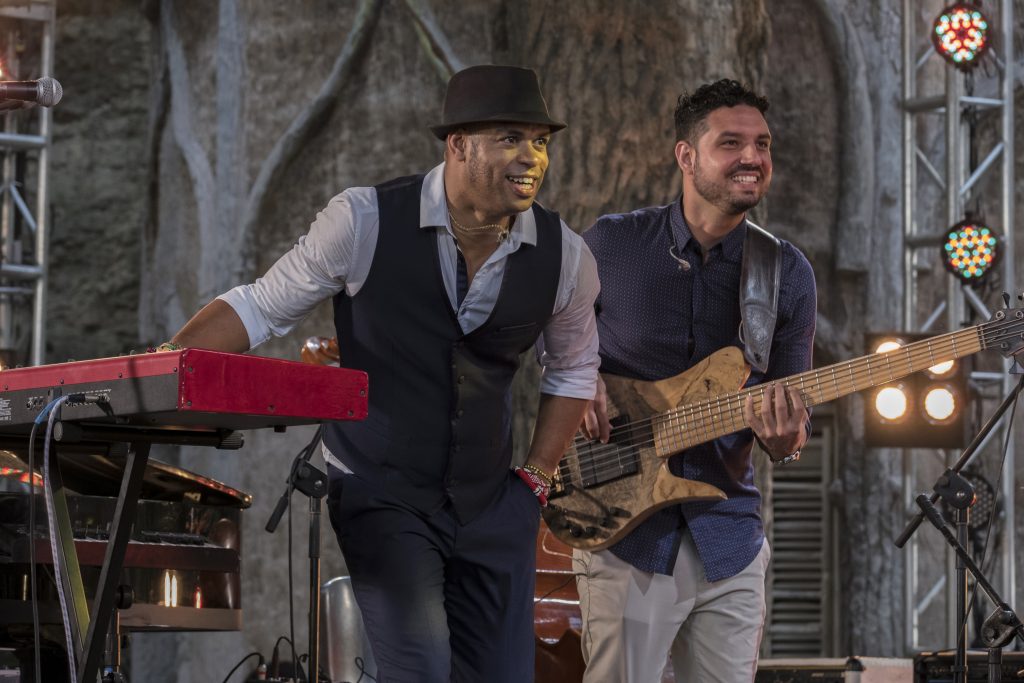 Havana Time Machine's final set takes place in an abandoned 1930s beer garden now overgrown with vegetation. "If Indiana Jones were going to shoot a live concert, this is where he'd go," Jarrell said. The set includes Eliades Ochoa's Band performing "El Carretero," a traditional mountain song; the Roberto Fonseca Band's updated take on traditional Cuban jazz and funk; and the unexpected sound of Sweet Lizzy Project. "Of course I couldn't come down here without bringing The Mavericks," Malo teases.
The breadth of music presented in Havana Time Machine is only a sample of what the island has to offer. "When that gets unleashed onto the world, the music that will come out of there, the artists that will come out of there, will blow everybody away," Malo said.
"There's just so much in the world that divides people," Jarrell said, "but there's a couple of things that help bring people together…and the ultimate one is music. In our case, we're trying to practice some cultural diplomacy."
Additional airtimes for Havana Time Machine on Great Performances are below and the program will also be available for online viewing at video.wnpt.org:
Saturday, Oct. 7, 1 a.m. on NPT
Saturday, Oct. 7, .4 a.m. on NPT2
Thursday, Oct.12, 3 a.m. on NPT
Thursday, Oct. 12, 8 a.m. on NPT2