Good news, Midwife fans! Call the Midwife is back for a fifth season and so are the faculty of the Vanderbilt University School of Nursing with a weekly guest blog. Watch the show Sundays at 7 p.m., March 27 through May 22, then read our blog each Monday morning for historical and contemporary context about the previous night's episode. SPOILER ALERT: Some posts may contain spoilers.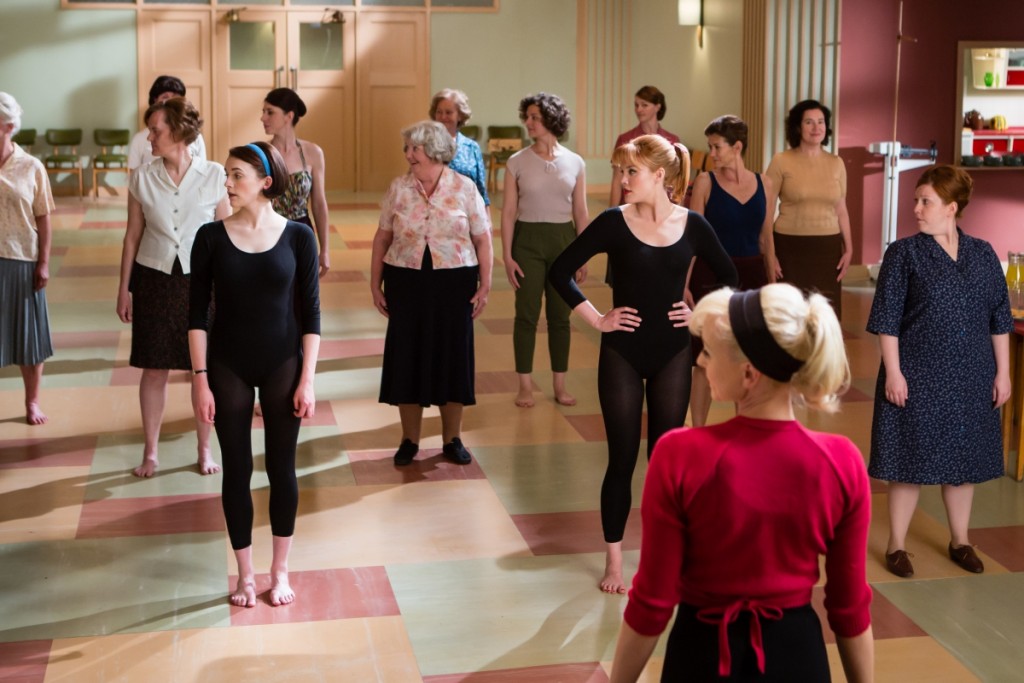 By Michelle Collins
Vanderbilt University School of Nursing
And here we go again! The long-awaited fifth season of Call the Midwife is off to a great start with the midwives of Nonnatus House looking especially spiffy in their newly updated uniforms. A bit of trivia about those elaborate silver buckles at their waists: parallel to the American tradition of awarding nursing graduates a pin, British midwives were awarded an ornate sterling silver belt buckle upon graduation and it was the only non-standardized thing they could wear on their uniform. Some midwifery schools and hospitals had their own buckle design, which was also an option for midwives on their staffs.
In this first episode, we saw Trixie (Helen George) passionately defending her attendance at exercise class after Sister Julienne (Jenny Agutter) suggested that time was detrimental to the order and flow of the Nonnatus House. Trixie explained that interacting with the women of the community gave her the opportunity to teach them about their bodies. Her assistance is evident in the scenario of the elderly woman who is found to have a prolapsed uterus (i.e. uterus that comes down and out of the vagina) but who never sought medical care for it because she assumed it was "just something to be tolerated"; it was just part of being a woman and bearing children. As Trixie explains, "owning a woman's body ought to be a joy," and she was going to teach that to the women she encountered whether in her role as a midwife or as an exercise instructor.
This week's episode also centered on the birth of a baby with phocomelia, a disorder wherein the baby is born with flipper or stub-like projections in the place of arms and legs. Phocomelia is very rare and can be inherited from the baby's parents, though historically the most common cause has been maternal ingestion of the drug thalidomide. After it became available in the mid-1950s, women were advised to take thalidomide to ease nausea in pregnancy. About half of all babies born with phocomelia did not survive; those that did had major disabilities.
Thousands of babies in Europe and the U.S. were born with thalidomide syndrome before the connection was made and the drug was removed from the market. The one positive outcome from the crisis was that drug testing became more rigorous in many countries (thankfully). Prior to the thalidomide tragedy, the introduction of any new drug was considered as "good" and rigorous pharmaceutical testing was not the norm; thalidomide had never even been tested in pregnant animals to ascertain whether it had negative effects on fetuses.
In this episode, the agony the baby's mother felt as she finally looked upon her baby was palpable, and the angst and shame of the father equally so. Grateful for a mother's love, which most assuredly sees the beauty in every one of her children, the narrator Jenny notes at the end of the episode "there was love because love grows where nothing else is certain, changing its shape to fill the space required." An affirmative "amen" to that, as those of us who are mothers can attest!
Michelle Collins Ph.D., CNM, FACNM, is a professor of nursing and director of the Nurse-Midwifery Program at Vanderbilt University School of Nursing.