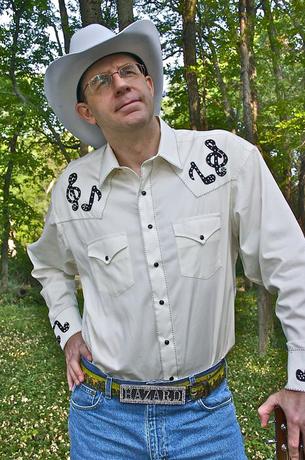 Nashville is a town full of songwriters, obsessively searching for inspiration. Listening to conversations at coffee shops and bars. Falling in and out of love. Standing on dirt roads next to pickup trucks holding bottles of Jack Daniel's while listing to Lynyrd Skynyrd. For Jon Shayne, whose nom de plume is Merle Hazard, inspiration comes from neither of these places. Unless, that is, he's standing on a dirt road next to a pickup truck holding a bottle of Jack Daniel's while listening to NPR's Marketplace. Or watching CNBC. Or reading the Wall Street Journal. You see, Hazard, self-described as "the first-and-only Nashville country artist to sing about derivatives, mortgage-backed securities, and physics," finds his inspiration in the world of economics and finance. The last few years have provided no shortage of material, and he's become quite well known for his take on it.
Hazard, er Shayne, whose day job in Nashville includes managing $150 million for Shayne & Co. clients, rose to  fame on the Internet in 2007 with a song called "H-E-D-G-E." A take off on Tammy Wynette's "D-I-V-O-R-C-E," the song was dedicated to "the hardworking men and women on trading desks all across America." The New York Times referred to it as  "almost certainly the only country song about the subprime meltdown and its effects on the global credit markets." The video for the song has over 131,000 hits on Youtube. In addition to the Times, The USA Today took notice, pointing out that "unlike the bearish lyrics to H-E-D-G-E, the reaction to Hazard's YouTube performance has been bullish."
Hazard followed the success of "H-E-D-G-E" with more fiscal-themed soon-to-be classics like "Inflation or Deflation," "In the Hamptons," "The Greek Debt Song" and "Double Dippin.'"
Hazard got a significant bump in attention when Paul Solman at the PBS NewsHour Business Desk profiled Hazard and started using some of his songs as part of "Making Sen$e" reports on the economy. Hazard's latest tome, "Fiscal Cliff"  is no exception,  making its debut on the NewsHour on September 11 and already reaching over 4,500 views. For the "animated surf-style music video(s) about budgetary dysfunction," Hazard enlisted the help of illustrator Grey Blackwell and animator and NPT editor Matt Emigh. The result is a fun and hilarious cartoon drag race-to-the-death between John Boehner and Harry Reid that leaves the song's narrator in the role of innocent bystander.
The video is also the first time the NewsHour is reaching out to viewers to help spread Hazard's message in different languages. From the site:
We end today's post with a request of our literate readership. Merle's videos are now being used in classrooms around the world. But they are far easier to work into the curriculum if the lyrics are translated. Would any of you be willing to offer translations into other languages? NewsHour has partnered with Amara subtitling to caption and translate video. Here, for example, is Fiscal Cliff in French. You can sign up as a volunteer (and see other translated NewsHour video) here.
On the occasion of the release of the new song and video, we caught up with Hazard, whose name is a take on the term "moral hazard," to get some insight on his process (and how convenient it is to have a replica of the Parthenon in Nashville).
NPT Media Update: I've never been sure if the "Leader of the Pack" by the Shangri-Las is a tragic Romeo and Juliet style love story, or a cautionary tale, or both. Did Betty's parents kill Jimmy by making Betty break up with him? Or did Jimmy kill himself by driving too fast? And why are songs about people dying so catchy? Your new song, "Fiscal Cliff," seems to come from this tradition. Why am I singing along when they fall off the cliff?
Jon: I was definitely thinking of an homage to "Leader of the Pack" with my song. But I did not get too much beyond the "Look out! Look out!" warning, and the crash sound effects. There are other songs that I took inspiration from, too, by the way. "Dead Man's Curve," by Jan & Dean, is an awesome recording, with great drumming by Hal Blaine. Like the ballad of Betty and Jimmy, it is promiscuous with its use of sound effects, and I copied that idea. The fiscal cliff is the equivalent of Dead Man's Curve: "no place to play, you best stay away." And there is "GTO," with the falsetto wah-wah-wahs at the end; I had to put those into my song, too. Not to mention the Beach Boys and Brian Wilson, who inspired the intro and the background harmonies.
MU: What made you decide to go with an animated video for this song?  I imagine it was more cost-effective than actually driving cars off a cliff, for one. So besides that.
Jon: How could I possibly beat the work of Grey Blackwell and Matt Emigh? Grey illustrated, and Matt animated. Matt is at NPT, as you know. They came up with a great video, on a very limited budget. Another attraction for me is that it is efficient, in terms of time, to get someone to do a video that does not involve me having to appear. I do not have too much time to put into this, with a business to run by day, and kids' homework to help with in the evenings. Animation is a better mouse trap, all around.
MU: Paul Solman on the PBS NewsHour seems to love you. He refers to your videos often, and uses your songs and clips in some of his reports. How did you come to his attention?
Jon: Paul loves a good joke and works sly ones into his reports. We met because of the humor session at the American Economic Association annual convention. Yoram Bauman, also known as "The Stand-Up Economist," is the fellow who puts that session together.  My first few songs got some attention online and in various media outlets, and this resulted in Yoram calling me with an invitation to sing a few songs on the weekend at the AEA convention in January, 2010. Paul was working up a plan to cover the convention, including the humor session. That is what led to our connection.
MU: It's been about five years since you first came to the attention of YouTube, and subsequently the New York Times, USAToday and other publications, with "H-E-D-G-E." But that was 2007. It seemed like the bottom fell out a year later, and there's been no shortage of economic material since. Did you think then that 5 years later you'd still have so much to sing about? Are you the Accidental Economist?
Jon: Actually, my friend Josh May and I — Josh was the co-creator of the idea of Merle — thought correctly from the start that the economy would kick up several years of material. Big economic messes that involve a crash in real estate take a long time to clear. Things are improving, gradually, of course. But I am an optimist: I imagine there will always be something horrible happening that needs musical attention.
MU: I know you get your ideas from a variety of sources, but is there one topic that you repeatedly get asked about? That you just haven't gotten around to singing about, for lack of a melody or a line?
Jon: I've been wanting to do a Johnny Cash parody, with the wire brushes doing a choo-choo train beat. There is an awesome photo of Johnny in front of the old train in Centennial Park. That train has not moved in 100 years, but they got some dry ice to make fake steam for the shot. My brother, David, has suggested that maybe Merle can stand there in front of that train, too. My wife, Ann, calls Merle "The Man in Beige," by the way.
MU: I know you're having fun with these songs, but as a real-life investment manager, it's also clear you take seriously what these songs are about, and I imagine hope to help people understand economics and finance. Is comedy effective for these kinds of things?
Jon: I have had a couple of college professors write me and say that not only do they use the songs in class, but that it sticks with students, who refer to them on the exams. So maybe it helps? Or maybe these are desperate attempts by students who are in near hallucinatory states after all-nighters, trying to scrape together a C-minus instead of an F. I often think of something that the great satirical songrwriter Tom Lehrer once said. Someone asked him whether he was proud to be contributing what he does to the culture. He said, satire really is important: it was so effective in the cafes of Berlin in the early 1930s.
MU: Speaking of classroom use. You went to Harvard. Did you write humor for the Lampoon?
Jon: Yes, if you can call it humor. Undergraduates are generally not that funny. I wasn't, anyway. Conan O'Brien was on the Lampoon back when I was, and actually was president of it during the time I was there. Now, he was funny.
MU: Quick one. You shot the video from 2010"s "Greek Debt Song," at the Parthenon in Centennial Park. Talk about luck. What are the odds that we would have that thing!?
Jon: Well, we are the Athens of the South, Joe!  I have a friend who grew up in Athens, Greece, and we visited the real Greek Acroplis together, with my family, this summer on a trip. I asked him how he felt living in the Nashville of Southern Europe. He had no idea what I was talking about. How provincial! Anyway, with regard to The Greek Debt Song: the PBS folks suggested this song idea to me. They were shocked and delighted when I pointed out that the perfect set just happens to be here in Nashville already. Jim DeMarco at NPT shot and directed the video brilliantly, by the way.
MU: I'm sure everyone asks you this, but does Merle Haggard know about his economic alter ego? Have you two ever met or communicated?
Jon: I have not had the pleasure! My name is really a pun on the economic idea, "moral hazard." But it winds up sounding close to The Hag's name, I know. I try to make it very clear on my website that I'm not he. Heck, he and I don't even sing about the same things, for the most part. Maybe the disclaimer on the website has reassured him that I'm not trying to muscle in on his terrain. Lucky for him. But, I like to think that he just has a good sense of humor.
MU: For a while now, you have followed the hallowed tradition of other non-mainstream Nashville artists, by being more famous everywhere else than here. But there's been a wave of the "other Nashville" press lately that it's possible for you to ride. You're certainly stylish. Where are you hanging out? How soon before you're in GQ?
Jon: I finally understand why recording artists say, "I'm huge in Europe." It's an unverifiable brag, which has got to be the best kind. But no, GQ has not called yet. If they want me, or Merle, they will find me slumped in my office chair, puzzling over central bank policy and reading annual reports. But maybe I had better stock up on mousse, to be ready just in case.
Learn more about Merle Hazard at http://www.merlehazard.com.
 ntufirst-and-only Nashville country artist

to sing about derivatives, mortgage-backed securities, and physics.