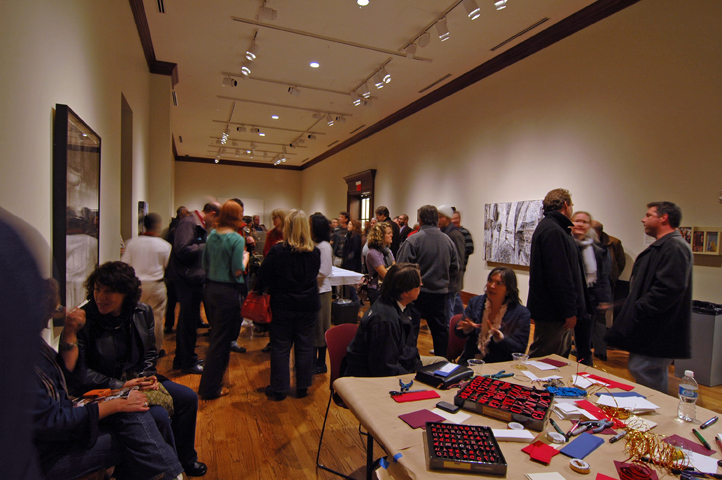 ITVS Community Cinema in Nashville wrapped up last week, Wednesday May 20, at the Nashville Public Library downtown. Presented jointly by NPT, the Nashville Public Library and ITVS, we gave attendees a sneak peak at six documentaries airing on the Independent Lens series. We screened Lioness, I.O.U.S.A., Helvetica, Arusi Persian Wedding, Crips and Bloods: Made in America and Ask Not. Each screening was preceded by a light reception that sometimes included a little wine and cheese; sometimes coffee and cookies. Helvetica even included a craft involving rubber stamps. Each film was also followed by an engaging panel discussion.
I personally was inspired and enlightened by every film, and am continually moved by the power of shared experience, especially when it comes to film. I watched every documentary beforehand on DVD, and saw and felt something more in every one when I watched them again with the audience. I won't soon forget the hopelessness and anger that seemed to settle on the group of people gathered in the downtown library's beautiful theater following the screening of I.O.U.S.A.; or the collective feeling that the world was a little smaller and we all knew each other a little better after watching Arusi Persian Wedding; or the energy at the Nashville Film Festival leading up to the screening of Crips and Bloods: Made in America.
I'm thankful that I and NPT were able to be a part of it, and that Deanna Larson and the Library were able to host it, and that ITVS Community Cinema organizer Allison Inman made it all work. The screening series is really a labor of love for her, and I'm glad she offered to do that laboring in Nashville. I'm thankful, too, to all the sponsors and panelists who came on board this season. I hope we can do this again next year. Special thanks to everyone who came out and made it a success. Hope you enjoyed it as much as we did. In the meantime, while it's still fresh in our minds, I wanted to get Inman's thoughts on the season, so I sent her some questions.
NPT Media Update: You've done Community Cinema in other cities, namely with Rocky Mountain PBS in Denver. Was your experience with doing it in Nashville different in any way?
Allison: I'd never partnered with a public library before until we did so in Nashville, and I've found it to be a natural connection. Deanna and the library staff are creative about connecting our audience with books related to our films' topics. And because we had two military-related films this year, we were able to connect a number of veterans in the audience with the library's Veterans History Project.
I've also loved working with NPT on this series and appreciate how well you promote it. The audience you attract is impressive — lifelong learners who are willing to share their opinions, ask questions and participate. This series is perfect to me because after you see a documentary like I.O.U.S.A. or Ask Not, how can you not talk about it? Documentaries are conversation starters.
Was there a screening from this past year, including both a film and panel, that really stands out as having been more impactful than others, or best represents the spirit of Community Cinema?
I think the spirit of Community Cinema is creating change beyond just one night. During our discussion of Crips and Bloods: Made in America, one guy talked about the lack of organized activities for kids in poor neighborhoods. Afterward, in the lobby, an audience member who teaches martial arts approached a nonprofit youth leader about setting up a Tae Kwon Do program in North Nashville. I was impressed.
A favorite film from the 2008-09 series?
Lioness, the doc about female soldiers in combat in Iraq, haunted me for days. The storyline about the woman from Arkansas is one of the best portraits of a soldier I've ever seen. Helvetica was also a blast. It was especially gratifying when Jim Sherradin from Hatch Show Print stood in the back and shared his impressions — except I was distracted by regret for not including him on the panel.
Was there a moment, or a film, that impacted you personally more than others, or something where you, yourself, had your eyes opened or your opinion changed?
I learned so much about Iran and its people during the Arusi Persian Wedding screening and discussion. I made friends and it opened my mind. People really listened to each other during that discussion and admitted to having misconceptions about each other's beliefs. I felt like we changed the world that night, just a little.
Want to do it next year?
Absolutely. See you in September!
Thanks again, Allison. Hope to see you again with a new batch of amazing films in the fall.