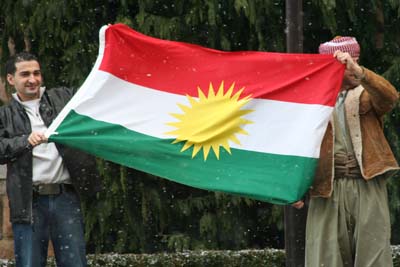 By Will Pedigo
Photos by Erin McInnis
Nashville's Kurds are a significant part of the Kurdish Diaspora, and for some, the community here represents the Kurdish capital of North America. Several events in the past week have kept these Nashvillians riveted to television and internet news reports (nearly everyone in Nashville's Kurdish community has satellite TV and monitors Kurdish channels like KTV). Saeed Chalky, who works for Kurdish Humans Rights Watch in Nashville, has reported stories for Kurdistan TV and even pitched a monthly series featuring news from Nashville.
On February 27, 2008, about 150 Kurds in Nashville stood in front of the Kefauver Federal Building to protest the recent Turkish invasion of Iraqi Kurdistan. That same day, Defense Secretary Robert Gates, made a statement that Turkey's incursion in Iraqi Kurdistan should be as quick as possible. Bombardments and air strikes began back in mid-November, as the Turkish government sought to eradicate members of the Kurdistan Worker's Party or (PKK) operating from within Northern Iraq.
The US, Turkey and Iraqi governments consider the PKK to be a terrorist organization. The US provided military intelligence to Turkey for the attacks.
This morning news of the Turkish pullout was announced amongst some surprise form international media. Everyone seems to be claiming success, including officials from the PKK. But, as noted by the Kurdish Regional Government, which Turkey refuses to recognize, this issue isn't going to be over anytime soon.
I spoke to several Kurds in Nashville that fear Turkey is using the PKK as an excuse to destabilize Kurdish autonomy in Iraqi Kurdistan. Many of the Kurdish refugees in Nashville lived for years in Turkish refugee camps, after fleeing their homes during Saddam Hussein's genocidal campaign. In those camps, Iraqi Kurds faced destitution and abysmal living conditions. For the millions of Kurds living in Turkey, they have been struggling for cultural and political rights for decades.
In May of 2007, Tennessee Tech professor Michael Gunter offered some background on tensions between Turkey and its Kurdish population for the PBS program News Hour.
While Nashville's Kurds said they don't support the violent actions of the PKK, they do understand the Kurdish cause for human and political rights.
A few protesters we spoke to said they believe the military objective of Turkey is not disabling the PKK, but instead involves the city of Kirkuk, on the border between Iraq and Iraqi Kurdistan. Kurds have stabilized Kirkuk and consider it part of Iraqi Kurdistan, but they suspect that Turkey sees Kurdish control of Kirkuk as a threat. Underneath Kirkuk lies the largest supply of oil in Iraq, and a source of financial stability for the Kurdish cause for freedom.
The other issue frustrating Kurds in Nashville is the US response to the Turkish invasion, which they see as both hesitant and contradictory. The Kurds in recent years, as in the past, have been a tremendous source of support for US involvement in the region. But, historic relations between Kurds and the US are troubled, and three times, US support has been supplied and pulled away from the Kurds, with devastating results — first in the 1920's, then in the 1970's and again in 1991. The Frontline program: The Survival of Saddam describes this history in its section on "The Kurds".
Nashville Kurds worry that history will again repeat itself, as the future of Kurdish autonomy continues to unfold.
Also on the minds of the community is the news today that the execution of Hassan al-Majid, or "Chemical Ali" has been approved and will be carried out within 30 days according to Iraqi law. For more information on what Chemical Ali's execution means to Kurds, see our post from earlier this month when the Iraqi High Tribunal visited Nashville.
In light of our upcoming project featuring the Kurdish community here, I think it is remarkable to imagine that a city like Nashville, TN can have such a stake in these issues. In a way Nashville and the Kurds would seem an unlikely pair to any observer, but here we are all sharing an unassuming city that happens to hold an impressive diversity of people.
I wonder what people driving downtown must have thought, as perhaps they listened to a story on the radio that was relevant to the activities happening right there on Broadway.
</