For the third season in-a-row, we are honored to have the faculty of the Vanderbilt School of Nursing back to guest blog for us each Monday morning about the previous night's episode of Call the Midwife, airing on Sundays on NPT and PBS Stations nationwide at 7:00 p.m. Central, March 30-May 18. Check in here every Monday morning for the next eight weeks for historical and contemporary context on the show, and some fun discussion. Plus, this year we'll have the occasional bonus blog from across the pond to get the British perspective. So be sure to check the blog TWICE on Mondays. SPOILER ALERT: Some posts may contain spoilers, so please be aware of that.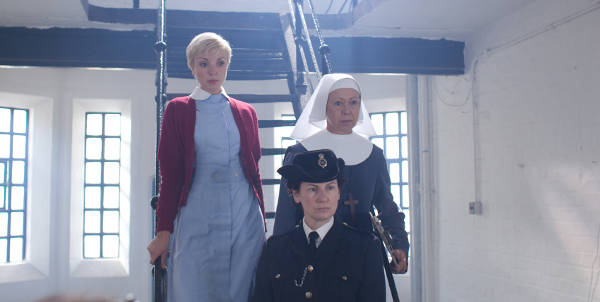 By Michelle Collins PhD, CNM
"Prison is no place to have a baby!" utters midwife Trixie Frankliin (Helen George) in this week's episode. Trixie and Sister Julienne (Jenny Agutter) tend to female prison inmates, with Sister Julienne in particular, going above and beyond on behalf of a young inmate. As stark as the circumstances for the incarcerated woman seem in the episode, it is startling how little progress has been made in the care of these extremely vulnerable women since the time period depicted in the series. The great majority of incarcerated women today have been convicted of non-violent crimes, many just first-time offenders.
In 2010, the National Women's Law Center and the Rebecca Project for Human Rights released the Mothers Behind Bars report¹, which examined 3 main aspects in the care of incarcerated women; prenatal care, the routine shackling of laboring women, and alternative incarceration programs. The report afforded a "grade" to individual states in each of the 3 areas, based on each state's policies. Surprisingly, or perhaps not surprising to many, 20 states, as well as the District of Columbia were afforded failing grades overall (when the 3 grades were averaged); 22 were given a C grade, and 7 a B; one state was given an A- (Pennsylvania). Consider just some of these startling facts from the report:
48 states do not offer pregnant women screening for HIV
22 states either have no policy at all addressing when restraints can be used on pregnant women, or have a policy which allows for the use of dangerous leg irons or waist chains
As far as offering family-based treatment as an alternative to incarceration, 17 states received a failing grade for not offering access to such treatment programs; 34 states do have alternative programs available
38 states were afforded failing grades for not offering prison nurseries to newly delivered incarcerated mothers, which would facilitate at least some chance for mother-child bonding and attachment
If you are wondering how Tennessee fared, we received an F for prenatal care of incarcerated women, a D for shackling policies, and an A for family based alternative treatment programs, for an overall grade of C-.
In 2003, the Center for Substance Abuse Treatment evaluated family residential treatment programs, and found the following of women who completed the programs:
60% of the mothers remained completely clean and sober
Criminal arrests declined by 43%
44% of the children were returned from foster care
88% of the children treated in the programs with their mothers remained stabilized, six months after discharge
Employment rose from 7% before treatment to 37% post-treatment
Enrollment in educational and vocational training increased from 2% prior to treatment to 19% post treatment
The pregnant incarcerated woman is all too often "out of sight out of mind." Thankfully, the history of midwifery includes providing care for the marginalized and underserved, including women behind bars. Midwives and doulas across the country, like the midwives of Baystate Midwifery and Women's Health in Springfield, MA, provided much needed and deserved care to the female inmates of the Hampden County Correctional Center.
Bhagwan Shree Rajneesh said "the moment a child is born, the mother is also born. She never existed before. The woman existed, but the mother, never. A mother is something absolutely new." As a society, we would do well to better nurture and midwife these new mothers among us, which will ultimately benefit both the mother and the child.
Michelle Collins PhD, CNM, is an Associate Professor of Nursing, Director Nurse-Midwifery Program, at Vanderbilt University School of Nursin
¹The complete Mothers Behind Bars report can be viewed at:  http://www.nwlc.org/resource/mothers-behind-bars-state-state-report-card-and-analysis-federal-policies-conditions-confin
Missed our analysis of the Previous Season's Episodes? Read them here.
Missed an episode? Watch full episodes for a limited time on NPT's "Watch Now" Video Portal here.